Artists and DJ's 2008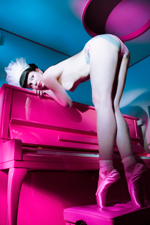 Satomi (JP)
Satomi is known for her extensive repertoire going from very theatrical and elaborate pieces, to more eccentric burlesque type shows. She was born in Canada, but emigrated to Japan in 1999 to learn the noble arts of the geisha. Satomi has performed at the legendary Torture Garden (London),
New Zealand Fetish Ball, Wasteland (Amsterdam), and Mandalay Bay Casino Hotel (Las Vegas), to name but a few. Together with her husband Lukas Zpira she has toured Europe with his performance concept ART KOR.
At PervoSirkus Satomi will present a mysterious shibari show where an octopus and a dangerous blindfolded self rope bondage suspension will make up some of the elements.
www.myspace.com/mizzsatomi

Kinky Cabaret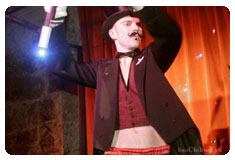 Pain Solution and The FakirAcademy
Obviously, our own HeadMaster, fakir, and master of ceremonies will take charge of the Kinky Cabaret. His three students at The FakirAcademy; The Bad Boy, The Princess of Scars, and The Maniac will also be present and make their impact on this summer's festivities.
www.painsolution.net
www.fakirskolen.no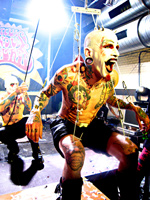 Saviours (FIN)
While Finland's superior freak circus Circus Mundus Absurdus is on a brake, two of the more eager and hardcore artists from the group are still going strong. The Saviours will be part of the Kinky Cabaret with a reportoir that is guaranteed to be remembered for a long time to come.
www.mundusabsurdus.com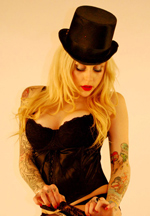 Lucky (UK)
More info to come...

Flaks
Jugglers from Flaks will be found around the venue creating
a jolly atmosphere.


DJs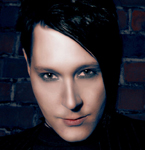 Dj DarkShark
Just when you thought it was safe to go back on the dance floor… DJ DarkShark has been plying the dark waters of the Oslo synth scene for several years and has risen to the ranks of Oslo's most popular synth DJs! Until recently a part of the Black-Alert DJ collective that has been keeping the black clad masses cutting the rug for years, DarkShark has was also responsible for the Darkshow club night - arranging concerts with Code 64, Mortiis, Red 7, Spektralized & Conetik, to name a few - and has warmed up for live acts including Theatre of Tragedy, Combichrist and Nitzer Ebb. At PervoSirkus '08, he has promised a dance floor frenzy with the toughest SynthPop, timeless EBM, and heavy electro.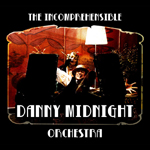 The Incomprehensible Danny Midnight Orchestra
Danny Midnight is Oslo's fastest DJ. Using two muscle-driven HMV Gramophones from the Roaring Twenties, he spins his records at the breakneck speed of 78 Rounds Per Minute. Hear the music from the first half of the Twentieth Century as played by the machines of its day! Photo: Eli Rikter Svendsen
www.dannymidnight.com
www.myspace.com/dannymidnightorchestra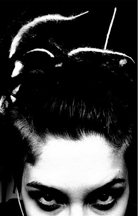 Neon X has been the house GJ at Dominion in Bergen since March 2007 and has also put in blazing sets as guest DJ at Absalong. She plays industrial and EBM, SynthPop and FuturePop, and promises to keep the dance floor moving with a mix of the new, the old, the familiar, and as yet un-tasted aural pleasures.
www.myspace.com/djneonx