Artists and DJ's 2007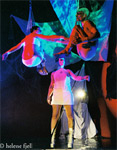 Wings of Desire produce the annual Oslo SusCon and makes body suspension available to everyone with an urge to fly. It's rare to experience WoD live on stage, but on this special occasion they will appear with a specially designed, and circus inspired suspension show.
www.wingsofdesire.org

The Fleshoticas, more info to come.
www.myspace.com/the_fleshoticas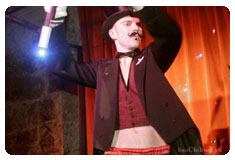 Pain Solution, more info to come.
www.painsolution.net
Fakirskolen, more info to come.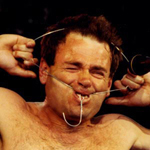 Max Normal is perhaps slightly more cracked than most, and has indeed occasionally been called a pervert. It is true that he not only smiles at pensioners, but also has a collection of extremely ugly underpants.
www.maxnormal.net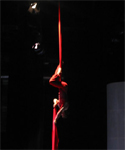 Sirkus Sapiens brings us their best man:
Diego Vicente Ramon DeLaVega Ramirez.
With his strength and flexibility he will challenge gravity and perform aerial acrobatics at high standards!
www.sapiens.no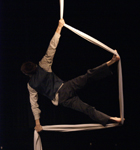 Rudi Jensen, more info to come.
www.feathergreen.no

Gjøglere, more info to come.
DJs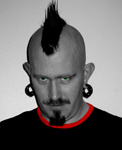 Dj Tigger has been a DJ and artist for more than 15 years and has been involved in many venues and events, ranging from radio shows like Goth & Sånt (Goth & Stuff) at the Student Radio in Bergen, Dominion Goth Club (as Executive DJ) in Bergen, lead singer and songwriter in the gothic industrial band Anax Imperator and guest DJ at venues in Oslo, such as Gotham Nights and Shadowlove. Nowadays he is involved in the solo project Wolfendorn and does DJ gigs when he feels like it. Tigger loves all kinds of music and his DJ sets range from gothic rock (like Bauhaus), via industrial, (like Skinny Puppy), to pop artists like Robbie Williams and Kylie Minogue, classical music like Bach and Gorecki, and artists like Grace Jones and Lene Lovich.
www.myspace.com/wolfendornat3r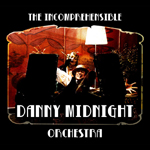 The Incomprehensible Danny Midnight Orchestra
Danny Midnight is Oslo's fastest DJ. Using two muscle-driven HMV Gramophones from the Roaring Twenties, he spins his records at the breakneck speed of 78 Rounds Per Minute. Hear the music from the first half of the Twentieth Century as played by the machines of its day! Photo: Eli Rikter Svendsen
www.dannymidnight.com
www.myspace.com/dannymidnightorchestra