Artists and DJs 2011
The Kinky Kabaret is back!
Our beloved HeadMaster leads the PervoSirkus' Kinky Cabaret!
This time we have brought entertainment from USA and Norway.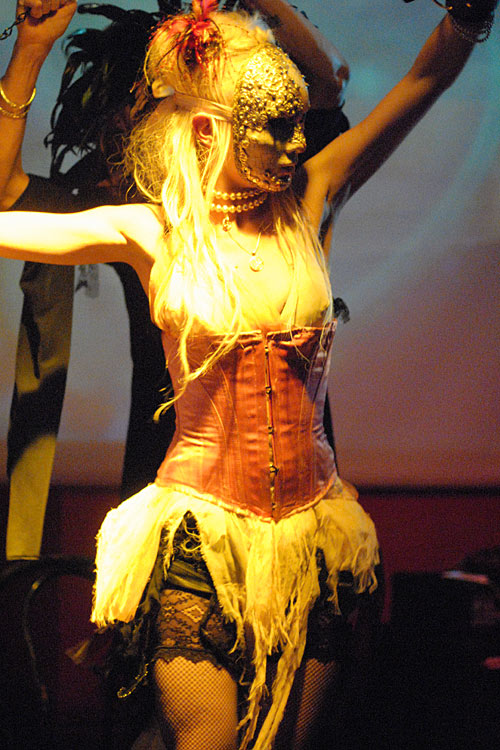 Maleficient Martini (UK)
With a background in classical ballet, Miss Martini combines the traditional dance with japanese shibari. The show involves her being suspended several feet above the stage by ropes – it might look simple but it has
taken months of training to perfect. "I improvise a lot live, but I always have a concept in mind," Miss Martini says.

She's performed across Europe, including Greece, Finland, Holland and Italy. "I want to play all over the world," she smiles. "I believe
there are no boundaries in performance."
www.missmaleficentmartini.com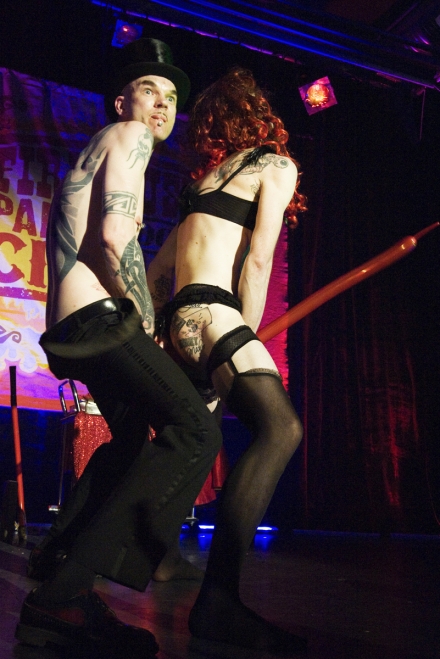 PainSolution
The HeadMaster and Maniac the Bearded Lady haven't just come out
of the closet. They have blown the whole bloody wardrobe to pieces!
As usual they are making perverted plans for how to live out their
bizarre fantasies on stage. Only the lucky few gets to see the
exclusive acts Pain Solution brings out on their annual
One Night Stand at PervoSirkus.
Rudi Skotheim Jensen
Unfortunatly Rudi is unable to make it, due to health conditions.
We expect him back in fit shape by next year.
www.rudiskotheimjensen.com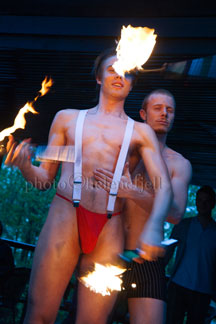 Flaks
Diego and Torbjørn from Flaks have their balls loaded and are ready
to blow... fire, to spread joy and happiness with their fancy skills and
fit shape. Nothing makes for a better circus mood than jugglers!
www.sjongleringsflaks.no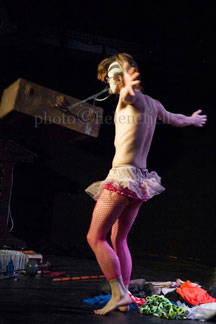 The Squidling Brothers Circus Sideshow
To compensate for the lost act we found The Squidlings. Truth is
it was a stroke of faith that made them available just
as we needed them. Here's what they say:

A death defying Stunt Show full of sick humor and
amazing feats of the human body.

Lead by host Jelly Boy T. Clown, the living cartoon and natural born weirdo, there is never a dull moment. Accompanied by his brother Mattersz Squidling the Impenetrable Music Man, The Illustrated Penguin and The Baron Von Geiger: World's Strangest Strongman.

Unusual Sword Swallowing, mind boggling stunts upon beds of nails and broken glass with anvils, sledge hammers and a a see-saw!
This and much more. All real! All Live! Practiced and mastered by trained professionals. www.squidlingbros.com
DJs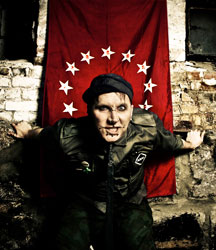 DJ Deadswan
Deadswan should be a familiar face for those who've frequented Oslo's "alternative" clubs the last decade, and into the future where we're currently residing. These days Deadswan is to be found at The Villa with his club concept Iconoclastic, which in 2007 received the Oslo Award by Natt og Dag. It's hard to appropriately describe the sound of Deadswan, but try picturing DIY-esthetics, neon colors, fetish, arpeggio-synth and punk/bass, emotionless vocal about cynical sexuality, gender-bending, drugs and alienation. Motto: «Non stop ecstatic dancing!»
DJ Deadswan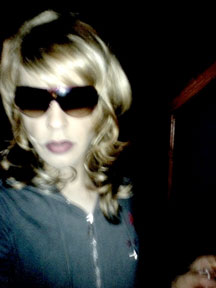 DJ Whore More
Dj Whore More is infamous for his enormous record collection containing a wide range of gems, old-time favorites, ephemerae and unknown celebrities. If you frequented Oslo's club scene in the 90's, you most definitely danced to Whore More's grooves at his club Doris Love Club. Whore More plays popmusic so rich and tasty it's probably hazardous to your health. You can expect the finest of Japanese pop, French porn and British bubble gum.