Artists and DJ's 2010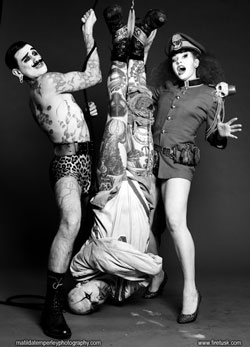 The Fire Tusk Pain Proof Circus
Hang on to anything you can during this celebration of human folly and resilience: a high-octane phenomenon of real people, real risks and real skills! When the world seems grim, drab and bent on self destruction...send in the clowns!

Fire, straitjackets, whips, knives and flying usherettes: The Fire Tusk Pain Proof Circus drags circus kicking and screaming into the 21st century on an unstoppable, rock 'n' roll rollercoaster ride to Hell.

Alternative circus' newest and most extreme rock n roll act. In their first two years this award winning act has covered a lot of ground; from their debut at Torture Garden in London all the way to Fuji Rock Festival in Japan. They've stopped off at Tattoo Conventions, Fetish Balls, Nightclubs and even Corporate Entertainment jobs along the way as well as a jam-packed festival season.
The Fire Tusk Pain Proof Circus

Pain Solution:
Oslo's own world-renowned sideshow. We've presented this many times before… Don't you know of Pain Solution?
Pain Solution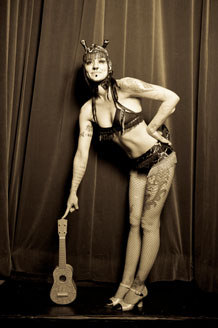 The Giraffe Girl:
Rare! Wild! Alive!
DJs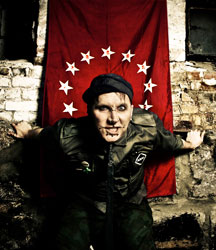 DJ Deadswan
Deadswan should be a familiar face for those who've frequented Oslo's "alternative" clubs the last decade, and into the future where we're currently residing. These days Deadswan is to be found at The Villa with his club concept Iconoclastic, which in 2007 received the Oslo Award by Natt og Dag. It's hard to appropriately describe the sound of Deadswan, but try picturing DIY-esthetics, neon colors, fetish, arpeggio-synth and punk/bass, emotionless vocal about cynical sexuality, gender-bending, drugs and alienation. Motto: «Non stop ecstatic dancing!»
DJ Deadswan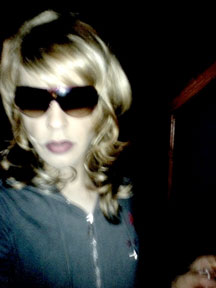 DJ Whore More
Dj Whore More is infamous for his enormous record collection containing a wide range of gems, old-time favorites, ephemerae and unknown celebrities. If you frequented Oslo's club scene in the 90's, you most definitely danced to Whore More's grooves at his club Doris Love Club. Whore More plays popmusic so rich and tasty it's probably hazardous to your health. You can expect the finest of Japanese pop, French porn and British bubble gum.