Artists and DJ's 2009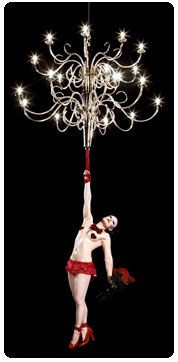 Empress Stah
Empress Stah is an internationally renowned Trapeze Artist and Neo-Burlesque Cabaret Performer.
Stah had toured extensively to international fetish events in Japan, America, Australia, Italy, Holland, Germany, Sweden, France and England where she has wowed audiences with her unique style and shows that include a diverse array of skills from Trapeze to Body Piercing, Fire Eating, Blow up Doll Shagging, Blood Drinking, Champagne Ejaculating, Rose Eating, Candle Wax Dripping and more.

Stah's signature performance is 'Swinging From the Chandelier' for which she received a Jerwood Circus Award and produced a sell-out run of shows at The Circus Space, London.

Stah's work is aimed exclusively at an adult audience and is at times humorous, blasphemous, pornographic, light hearted, challenging, camp, politically incorrect and above all entertaining. Her performances have taken her from London to New York, Moscow, Tokyo, Sydney and beyond, with clients as diverse as Harvey Nichols, Torture Garden, Damien Hirst, Lost Vagueness, Playboy and The Brit Awards.

www.empressstah.com
www.myspace.com/empress_stah
Kinky Cabaret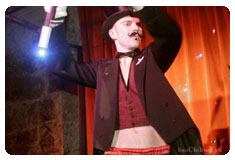 Pain Solution and The FakirAcademy
Obviously, our own HeadMaster, fakir, and master of ceremonies will take charge of the Kinky Cabaret. His two students at The FakirAcademy; The Princess of Scars and The Maniac will also be present and make their impact on this summer's festivities.
www.painsolution.net
www.fakirskolen.no
DJs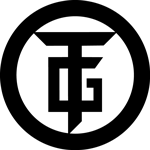 David TG
David TG is co-founder of Torture Garden - the worlds largest fetish / body art club since 1990. He has toured with TG events to Japan, Rome, Athens, Moscow, Croatia, Berlin, Amsterdam, Helsinki, New York, Los Angeles, and San Francisco.
 
As well as Torture Garden's resident DJ, he has also played at LA Fetish Ball, Fetish Factory Florida, LA Kink Ball, Smack New York, German Fetish Ball, Ritual Rome, Lost Vagueness @ Glastonbury Festival, Burlesque in the Boudoir, and An Evening with Empress Stah.
 
At PervoSirkus he will play an eclectic set mixing dirty electro, sleazy electro clash ,burlesque, neo swing and circus cabaret.
www.myspace.com/david_tg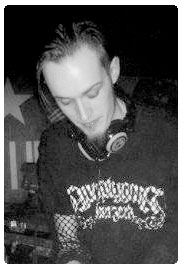 DJ Elec This!
Elec This! is a musician and producer with many years of experience and deep cred who has been a member of, among others, the bands Margaret Berger, Magenta, and Decipher. Additionally, he has achieved international recognition as a professional remixer for artists such as Apoptygma Berzerk, Gothminister, Icon of Coil, Celldweller, Essence of Mind, and SuperJupiter, as well as being a producer in his own right in the genres of Electro, House, and Techno.
In his DJ sets, Elec This! delivers everything from hard Tech-House to danceable Electro, to sweet synthpop, and oldschool EBM. He quickly established a seriously solid reputation as a profesional beatmixer, and has played Slottsfjellfestivalen, Musikfest Oslo, Club Maiden, ElektroStat, and the famous Slimelight in London.